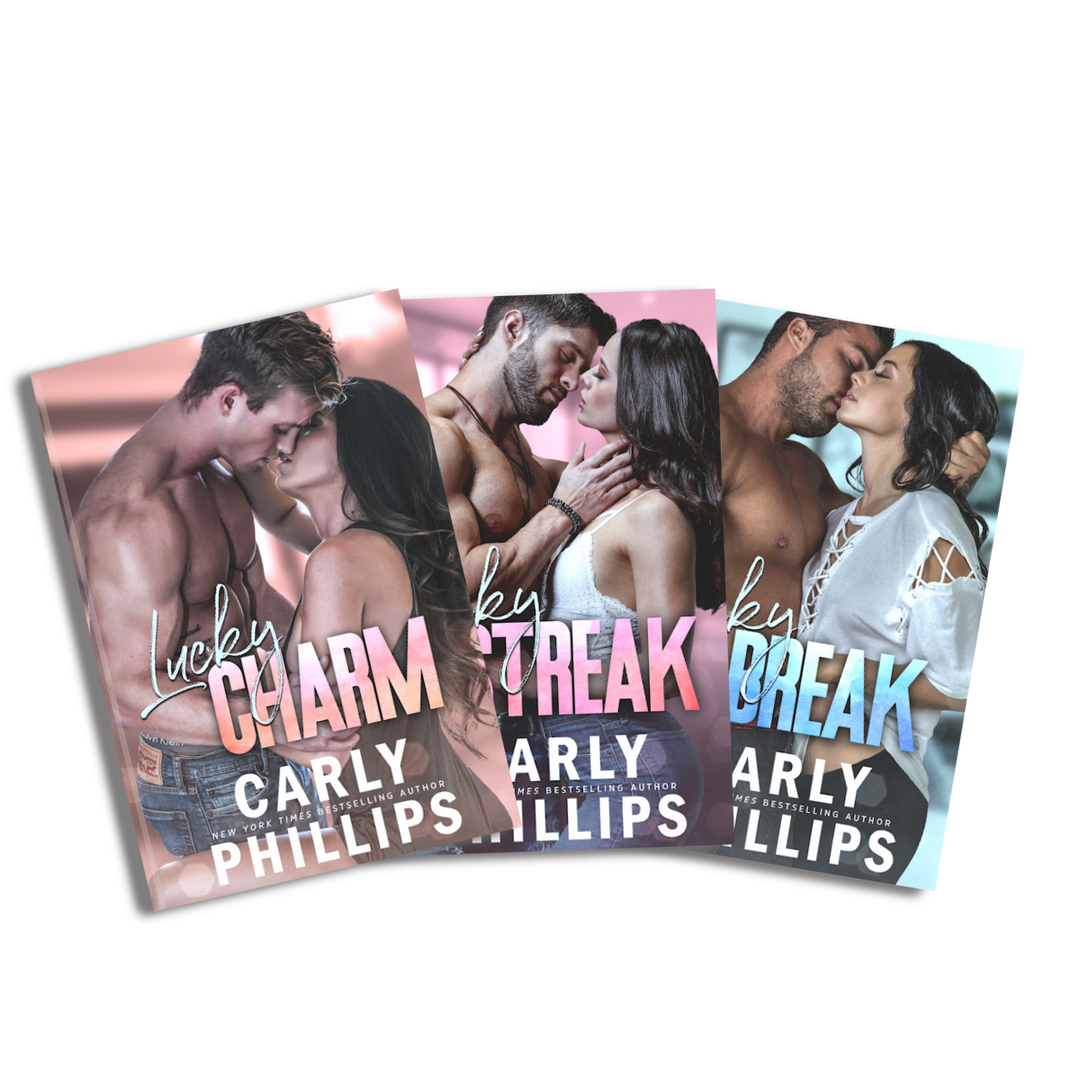 Lucky Series Bundle (Paperback)
Regular price
$53.97
Sale price
$45.79
Save $8.18
/
---
Looking for a Different Format?
Receive Download Link via Email from BookFunnel (www.bookfunnel.com/help)
Send to Preferred E-Reader and Enjoy!
Descriptions of all books in bundle gets added here.
Ex: Ch 1 Sample, 1K words or so from first book in series
Description below gets short 1st person snippet scene followed by marketing info for bundle, including tropes.
Hot heroes battle their family past to win the women they love in this bundle of three paperbacks featuring the Corwin cousins.

LUCKY CHARM
Derek Corwin is well aware of the family curse – every Corwin male who married for love would be destined to lose his woman and his fortune. He decides to outsmart the prophesy that has plagued his family for generations by breaking up with his first love—and marrying someone else. Now, divorced and broke, all he has left is his teenage daughter, a boatload of regret … and wariness when it comes to love.
Until Gabrielle Donovan returns, determined to rekindle their passion. Will her stubborn streak and her unwavering love be the lucky charm Derek so desperately needs?
LUCKY STREAK
When Mike Corwin awakens after some wild partying in Vegas $100,000 richer and married to Amber Rose Brennan, the gorgeous woman he met the night before, he thinks he's hit the jackpot. The bad news is that Amber's a con who takes his money and runs. Seems the family jinx has finally hit him. Hard.
But to Amber, Mike isn't business as usual. If only she didn't need the money to ensure her father's safety, she might actually have fallen for the intense lawman. Instead, she's forced to betray him.
Now Mike's hell-bent on divorce and Amber's on the run…but when a twist of fate reunites them, can they turn their run of bad fortune into a lucky streak that lasts forever?
LUCKY BREAK
Jason Corwin knows he should resist his attraction to Lauren Perkins. After all, it was one of her ancestors who came up with the curse that has plagued every Corwin male to misery and the single life. But after one night of mind-blowing sex with his supposed—and very seductive—enemy, he can't bring himself to stay away.
All Lauren wants is to sell her late grandmother's old house and leave the past behind forever. But that's not an easy thing to do with gorgeous contractor Jason Corwin whispering sweet, sexy somethings in her ear. About staying. Can she be the lucky break that Jason needs?
Print books are printed to order and shipped by our print fulfillment partner, BookVault. Print time is usually 72 working hours. After books are printed, they are packaged and shipped directly to you by the shipping method you choose at checkout. Rates and delivery times will vary depending on your delivery address and shipping method.
Average shipping times:  To U.S. addresses, 2-3 weeks.  
Holiday shipping times:  The U.S. celebrates Thanksgiving on November 23, 2023. Many physical businesses close for a 4-day holiday weekend. This also kicks off the December holiday buying and shipping period. Please bear with us as we expect printing and shipping to take longer during November, December and into early January.
Upon purchase, you will immediately receive an email providing access to your Ebook(s) from BookFunnel. Click that link and follow the instructions to read online or download the Ebook to your Kindle, iPhone, Android, Nook or Kobo device.
If you have any issues accessing your purchased Ebook, there is a Need Help? link at the top right corner of the book download page. If you do not receive a download email, visit https://bookfunnel.com/help/.