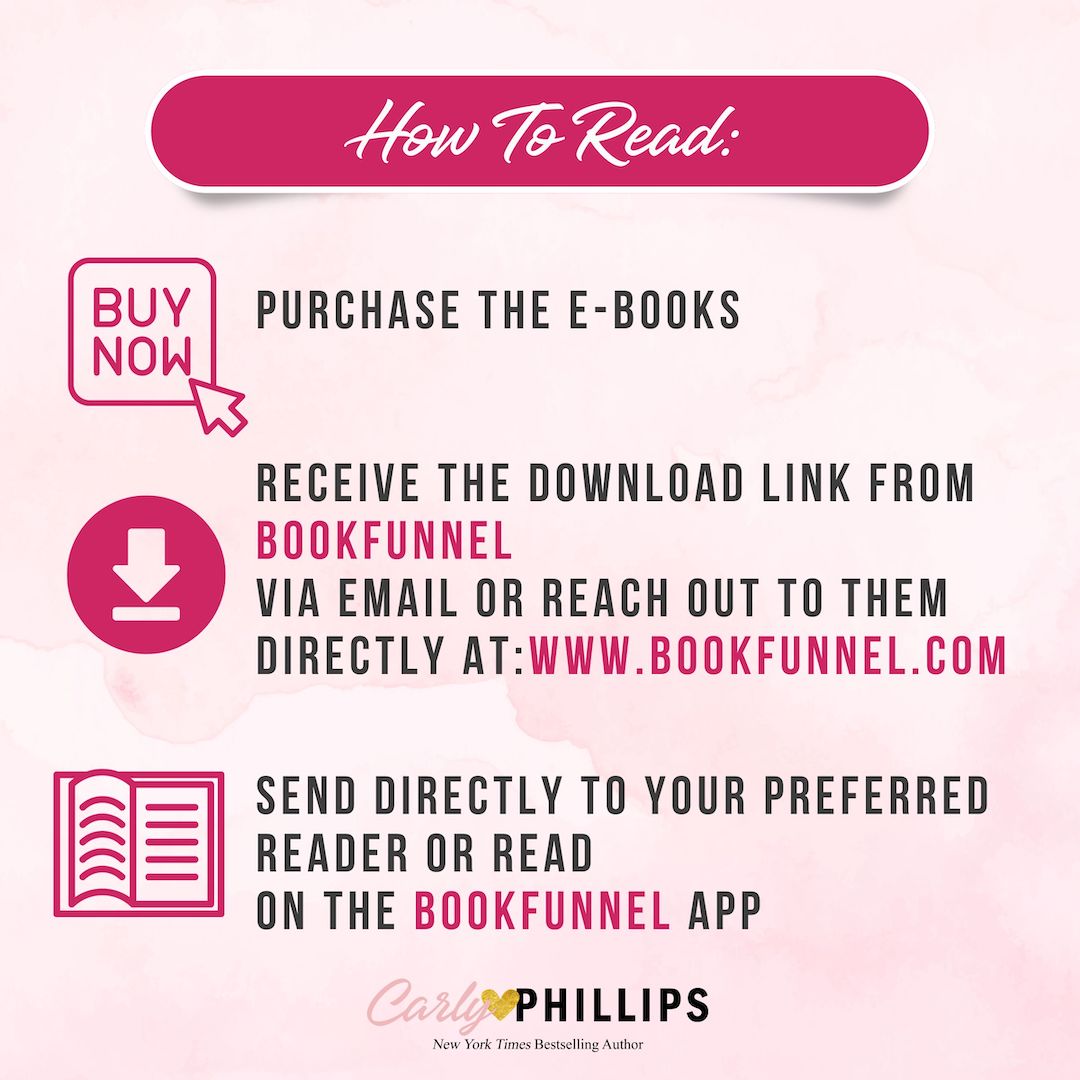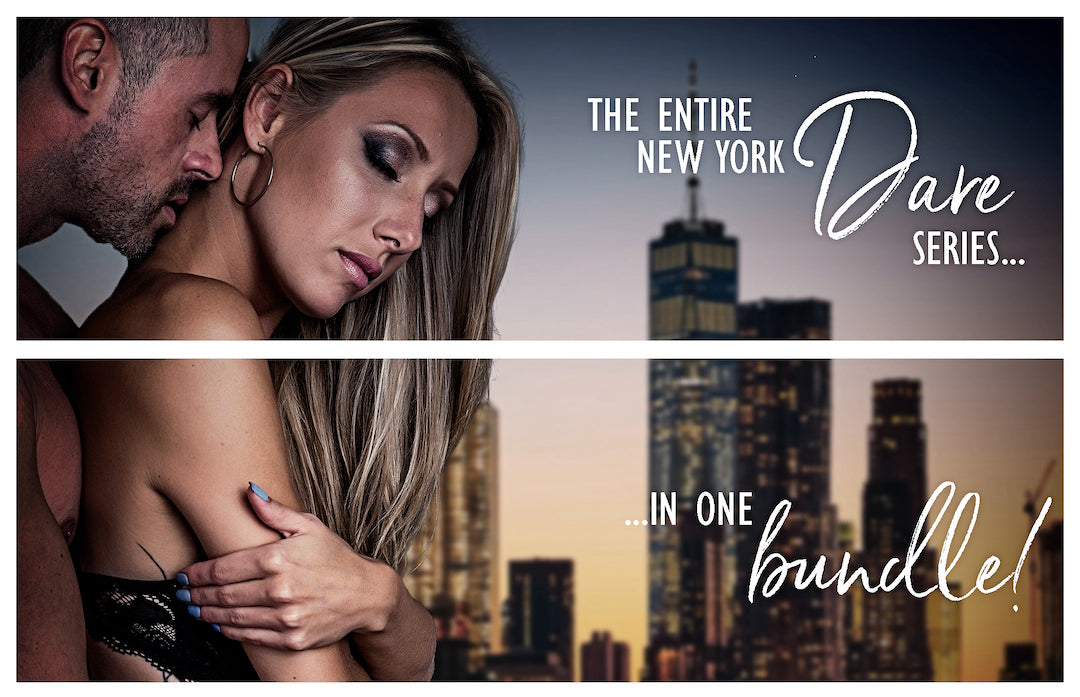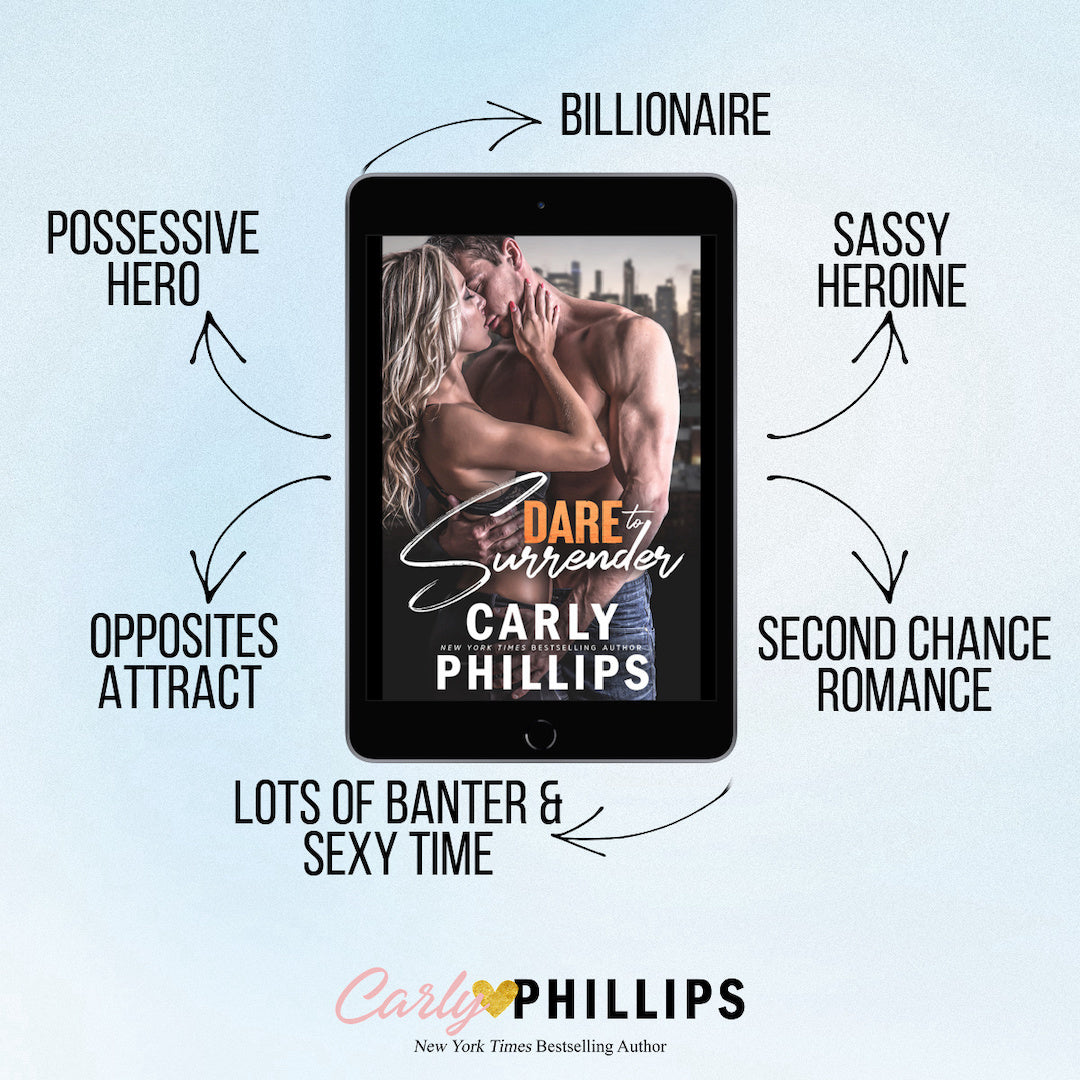 The New York Dares Bundle (Ebook)
⭐️⭐️⭐️⭐️⭐️ 3,484+ 5-Star Reviews
Regular price
$23.97
Sale price
$15.50
Save $8.47
/
---
Looking for a Different Format?
Receive Download Link via Email from BookFunnel (www.bookfunnel.com/help)
Send to Preferred E-Reader and Enjoy!
DARE TO SURRENDER
Isabelle Masters is done…
Done with her cheating boyfriend.
Done with his domineering ways.
Just done.
Taking off in her leased Mercedes to start over turns out to be the best decision she's ever made—despite being arrested for grand theft auto and hauled off to a local police station. Being rescued by the most unlikely person possible, Gabriel Dare, makes it all worthwhile. After all, she's yearned for the sexy man for years—yet now is her chance to finally take the plunge and dare to become the independent woman she's always wanted to be. But can she be in control of her life if she surrenders to a man like him?
DARE TO SUBMIT
Is running away easier than giving in?
Decklan Dare has everything he wants and he wants Amanda Collins. Which is perfect since Amanda wants him—especially his no-strings-attached approach to casual sex. Emotions are overrated, but the sex isn't. They both know it and both desire it. But as their connection deepens, Decklan, a man who's used to being in charge, finds that Amanda can't be controlled. But she has her reasons. She just might be hiding something—something that won't let her dare to get too close.
DARE TO SEDUCE
It's now or never…
Billionaire Max Savage knows it's time—time to convince Lucy Dare that she belongs with him–even if she's on the arm of another man. His only option is to seduce her and show her how they're meant to be together, how their bodies react to one another—no matter the consequences. But will Lucy dare to succumb to her desires?
He begged me not to walk out the door. I did it anyway. The scariest part? How much I wanted to go. I'd spent years of my life fully invested in a relationship I'd thought meant everything to me. How could all the emotion disappear?
The answer came to me as I stood in the dark driveway by my car, the only light coming from the headlights of the vehicle I'd turned on with the push of a remote. The feelings had drained away, diminishing slowly from something I'd hoped would be full and wonderful at the age of twenty-two to something painfully empty by the time I'd reached twenty-five. I wasn't old, but at this moment, I felt ancient and weary down to my bones.
I glanced up just as the first drop of rain touched my face. Normally I'd pull up a hood and protect my out-of-control curly hair from frizz, worried about how I'd look to Lance and the carefully chosen people with whom he surrounded himself. He called them friends, but none knew the meaning of the word. Instead, I embraced the wildness of the storm that suddenly threatened to release from the heavens. Each warm droplet hit and spread across my cheeks, cleansing my skin and my soul. The wind took flight, lifting my hair, blowing strands onto my face and setting the rest of me free.
"Isabelle!" Lance yelled down from the window he'd opened on the second floor of his Hamptons summer home. It had been too long since I'd considered any part of it mine. If I ever had.
I unwillingly looked up.
"You've had your tantrum. Now come back inside, and we'll talk like civilized people. You don't want to cause a scene in front of the neighbors."
Heaven forbid, I thought, sparing a last glance at the place I'd lived for too long. The house was Lance Daltry's showplace, just as I had been nothing more than an accessory. I may have organized his personal life and thrown obligatory dinner parties, but I'd contributed nothing of substance. He'd never allowed me to spend any of the money I'd earned before I'd quit my interior design job. Unnecessary, he'd said. If I loved him, I'd stay home and take care of the house. More like he'd wanted control, and I'd given it to him.
Luckily for me, I'd saved a good amount from those early days. Not so luckily, I'd let Lance invest my money and maintain control of those accounts. And what were the chances that money would be available for my withdrawal on Monday morning? I closed my eyes at the thought.
Although I'd been in Manhattan for a couple of years by the time I'd met Lance, I was still the naïve girl who'd taken a bus from a small town near Niagara Falls and traveled to the big city alone. Too bad I hadn't had the street smarts to peg Lance for the phony he'd turned out to be.
"Isabelle!" He yelled down to me again, not bothering to come out in the rain to talk to me, let alone apologize like a man. Not when the rain would ruin his thousand-dollar suit and hundred-dollar haircut.
Not talking, I thought silently, and merely shook my head.
Talk was what had gotten me to remain in a relationship I knew I didn't want with a man I couldn't trust; it was what had convinced me that Lance, a Wall Street trader, was my soul mate when, in the deepest part of my heart, I knew there was no such thing. And most humiliating, talk was what had led me to believe his lies, despite knowing I wasn't truly satisfied with him or in his gilded cage.
I didn't need therapy to tell me why I'd been so susceptible to Lance's charm and desire to own me. The childhood I didn't like to think about held the answers. But having escaped him now, one thing was certain. I wasn't going back.
"Would you quit being a child and get back here!" Lance tried once more, patronizing me even though he was the one in the wrong. Another favorite ploy of his.
Shaking, I climbed into my beloved car, slamming the door and escaping Lance's tirade. I started the engine and paused, breathing in deep, the events of the last few minutes rushing through my brain like a bad film.
I'd been on our shared laptop, searching for recipes I'd stored there. Seeing a file I didn't recognize, I'd clicked. And the graphic, sexual images of a naked and sweaty Lance along with my beautiful neighbor, who'd dared to call herself my friend, had flashed on the screen. Nausea had risen at the visual proof of what I'd only suspected before.
I shivered at the memory of those images, proud of how I'd walked out without a word—or a suitcase. My body was frozen, my heart encased in ice. Although I could turn on the heated seats, the reminder of what it felt like to be numb with betrayal would keep me safe in the future.
I turned on the ignition, but surprisingly, no water works mixed with the dampness from the rain. Instead, adrenaline raced through my veins faster than even my beloved car could take a highway. I ought to be afraid. Panicked. Yearning to turn around and go back to the security I'd known.
My foot pressed the accelerator, and I backed out of the driveway without looking back. I might not know where I'd go or what I'd do, but I was moving forward. At last.
On the satellite radio, the 1980s Bugles song proclaimed that video killed the radio star. Untrue, I thought, as I drove into the dark night. Radio had thrived anyway. And tonight, though video killed my dream of living happily ever after in a life I thought I'd carefully crafted to prevent loneliness, those graphic sexual images of betrayal wouldn't destroy me. Instead, they'd set me free.
I was arrested a mile outside of Manhattan. Grand theft auto, the cop said. Bullshit, I replied. The baby Benz belonged to me.
"You know, I thought it would take me longer to get you in cuffs." A familiar masculine voice that oozed pure sin sounded beside me.
It couldn't be, I thought, but from the tingling in my body, I already knew it was. "Gabriel Dare, what brings you into this part of Mayberry?"
He chuckled, a deeply erotic sound that matched his mention of the handcuffs, but he didn't answer my question.
Left with no choice, I tipped my head and looked into his self-possessed, dark blue eyes.
I knew Gabriel Dare from the country club my ex belonged to, but despite the upper-crust connection, there was nothing similar about the two men. Where Lance was sandy-haired and a touch Waspish in looks, Gabe, as his friends called him, possessed thick, dark sable hair and roguish good looks.
Gabe's very posture and demeanor set him apart from any other man I'd met. His white teeth, tanned skin, and chiseled features were put together in a way that made him extraordinarily handsome. That he owned the space and air around him merely added to his appeal. An appeal that had never been lost on me, not even now, shackled as I was to a desk in a police station.
His stare never wavered, those navy eyes locked on me, and if I hadn't been sitting, I'd be in a puddle at his feet.
"You look good cuffed," he said in a deliciously low voice.
Immediate thoughts of me bound and at his mercy assaulted me. My body, which hadn't been worshiped well in far too long, if ever, had been taken over by the notion of Gabe, his strong touch playing me with an expert hand.
I squeezed my thighs together, but instead of easing, the ache only grew. Heat rushed through me at a rapid pace, my breasts heavy, my sex pulsing in a dull throbbing that begged to be filled. I blinked hard in an impossible attempt to center myself.
He grinned, as if he'd heard every naughty thought in my head.
It had always been this way between us. Any time I ran into him at the club, the attraction had been electric, and when we found ourselves alone, the flirting, outrageous.
But Gabe always had an elegant woman on his arm, a different one each time. He could have any beautiful female he desired. Why would he choose me? Even my ex, who I'd been with for what felt like a lifetime, liked ownership, not me. And let's face it, my parents hadn't wanted me either. So believing in myself wasn't my strong suit.
"So. What are you in for?" Gabe settled in his brother's chair, propping an elbow on the cluttered desk so he could lean closer. "Prostitution?"
Find out what happens next in Dare to Surrender.
The Dare Family saga expands to New York in this bundle of three billionaire romances!

Meet the Dare cousins — Gabe, Decklan and Lucy — fiercely independent men and women, each seeking their perfect match. Stack up your digital to-be-read pile with these three steamy romances.

Read the full series if you love:
Billionaires

Alpha Heroes
Forbidden Love

Forced Proximity

Damaged Heroes/Heroines

Insta Love

One Night Stand Romances
Second Chances
*After you purchase the bundle, you will receive an email with a link to download your ebooks. Then you can simply send the ebooks to any Kindle, tablet, or phone. Enjoy.
EBOOKS INCLUDED IN BUNDLE 
Dare to Surrender — Gabe & Isabelle
Dare to Submit — Decklan & Amanda
Dare to Seduce — Max & Lucy
Upon purchase, you will immediately receive an email providing access to your Ebook(s) from BookFunnel. Click that link and follow the instructions to read online or download the Ebook to your Kindle, iPhone, Android, Nook or Kobo device.
If you have any issues accessing your purchased Ebook, there is a Need Help? link at the top right corner of the book download page. If you do not receive a download email, visit https://bookfunnel.com/help/.