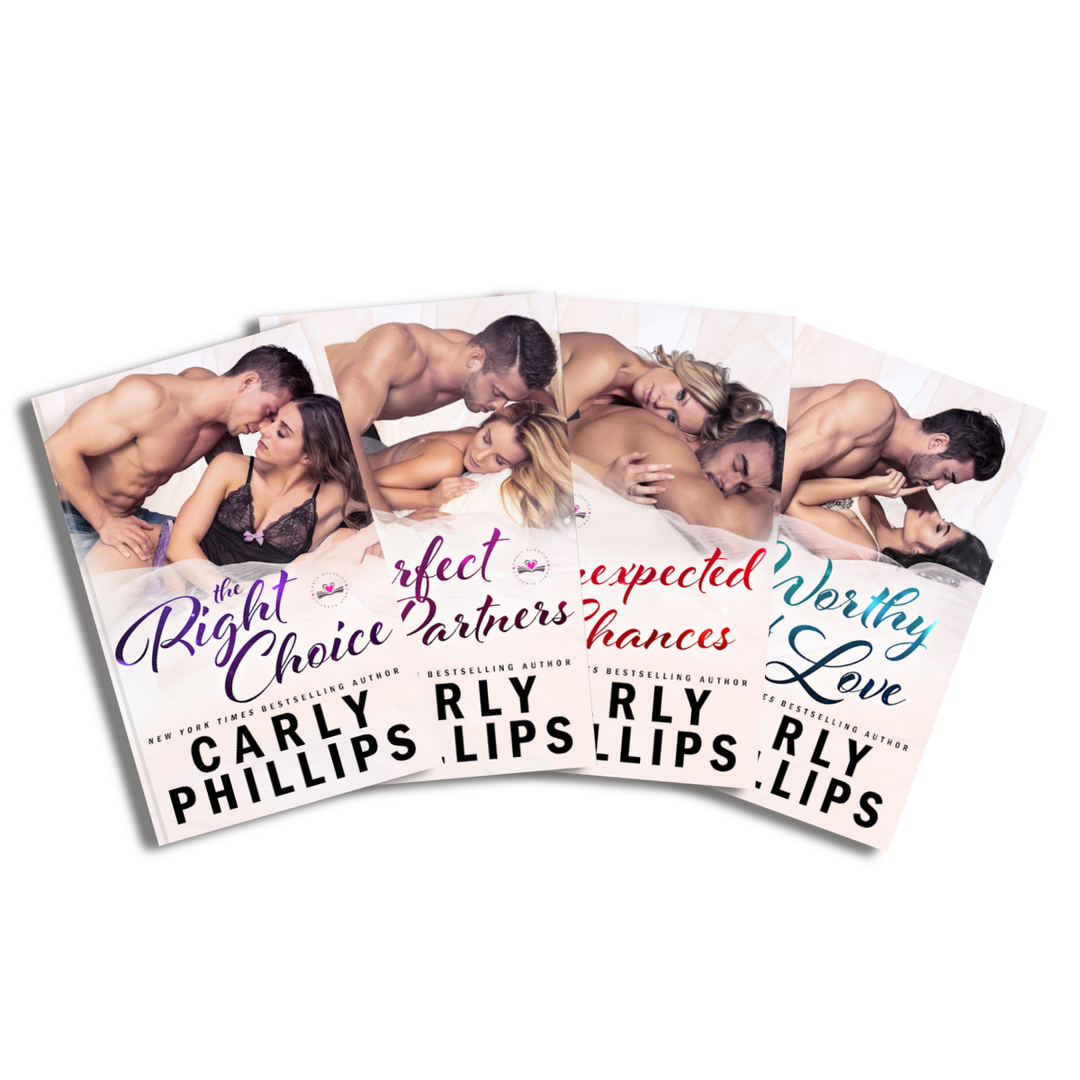 Carly Classics Bundle (Paperback)
Regular price
$62.96
Sale price
$49.99
Save $12.97
/
---
Looking for a Different Format?
Receive Download Link via Email from BookFunnel (www.bookfunnel.com/help)
Send to Preferred E-Reader and Enjoy!
Descriptions of all books in bundle gets added here.
Ex: Ch 1 Sample, 1K words or so from first book in series
Description below gets short 1st person snippet scene followed by marketing info for bundle, including tropes.
4 Swoony Standalone Romances in one Classic Bundle of Paperbacks!
Sexy, contemporary, standalone novels full of tropes and sexy fun. Books from early in Carly's career, brought back for your reading enjoyment. In this bundle, you receive each book individually for your library. Better yet, you save 20% when you buy the bundle!
The Right Choice
Marry for friendship? Or wait for love?
Advice columnist Carly Wexler has mapped out her entire life, and she's convinced by marrying her best friend she'll find happiness. The fact that they have no sexual sparks? No problem. Or so she thinks…until Mike Novak, her fiance's brother, arrives for the wedding.
Could the best man be the right choice for her after all?
Perfect Partners
Friends to lovers…
They lost their siblings in a car crash and fought over their orphaned niece in court. Now they must find a way to get along for the good of the little girl they both love.
Can an unapologetic, arrogant attorney with a soft spot for his niece find a way to open his heart to the one woman he doesn't think he can trust?
Unexpected Chances
Headline: Hollywood Heartthrob returns home for the girl he left behind.
Dylan North is back … ten years after he left his small town and high school sweetheart behind. But is he here to stay? Dr. Holly Evans has a great career and a fulfilling life. The last thing she needs is Dylan's visit stirring up old feelings.
Can his unexpected return reignite their love … or does happily ever after only happen in the movies?
Worthy of Love
Can One night of passion make him feel worthy of love?
Police officer Kevin Manning feels responsible for his partner's death.
Nikki Welles is grieving the loss of her brother, the only family she had left.
One night of shared passion leads to so much more than either anticipated —
A baby he'd never expected.
Another opportunity to get things right.
If only he can convince her to give him a second chance.
Print books are printed to order and shipped by our print fulfillment partner, BookVault. Print time is usually 72 working hours. After books are printed, they are packaged and shipped directly to you by the shipping method you choose at checkout. Rates and delivery times will vary depending on your delivery address and shipping method.
Average shipping times:  To U.S. addresses, 2-3 weeks.  
Holiday shipping times:  The U.S. celebrates Thanksgiving on November 23, 2023. Many physical businesses close for a 4-day holiday weekend. This also kicks off the December holiday buying and shipping period. Please bear with us as we expect printing and shipping to take longer during November, December and into early January.
Upon purchase, you will immediately receive an email providing access to your Ebook(s) from BookFunnel. Click that link and follow the instructions to read online or download the Ebook to your Kindle, iPhone, Android, Nook or Kobo device.
If you have any issues accessing your purchased Ebook, there is a Need Help? link at the top right corner of the book download page. If you do not receive a download email, visit https://bookfunnel.com/help/.