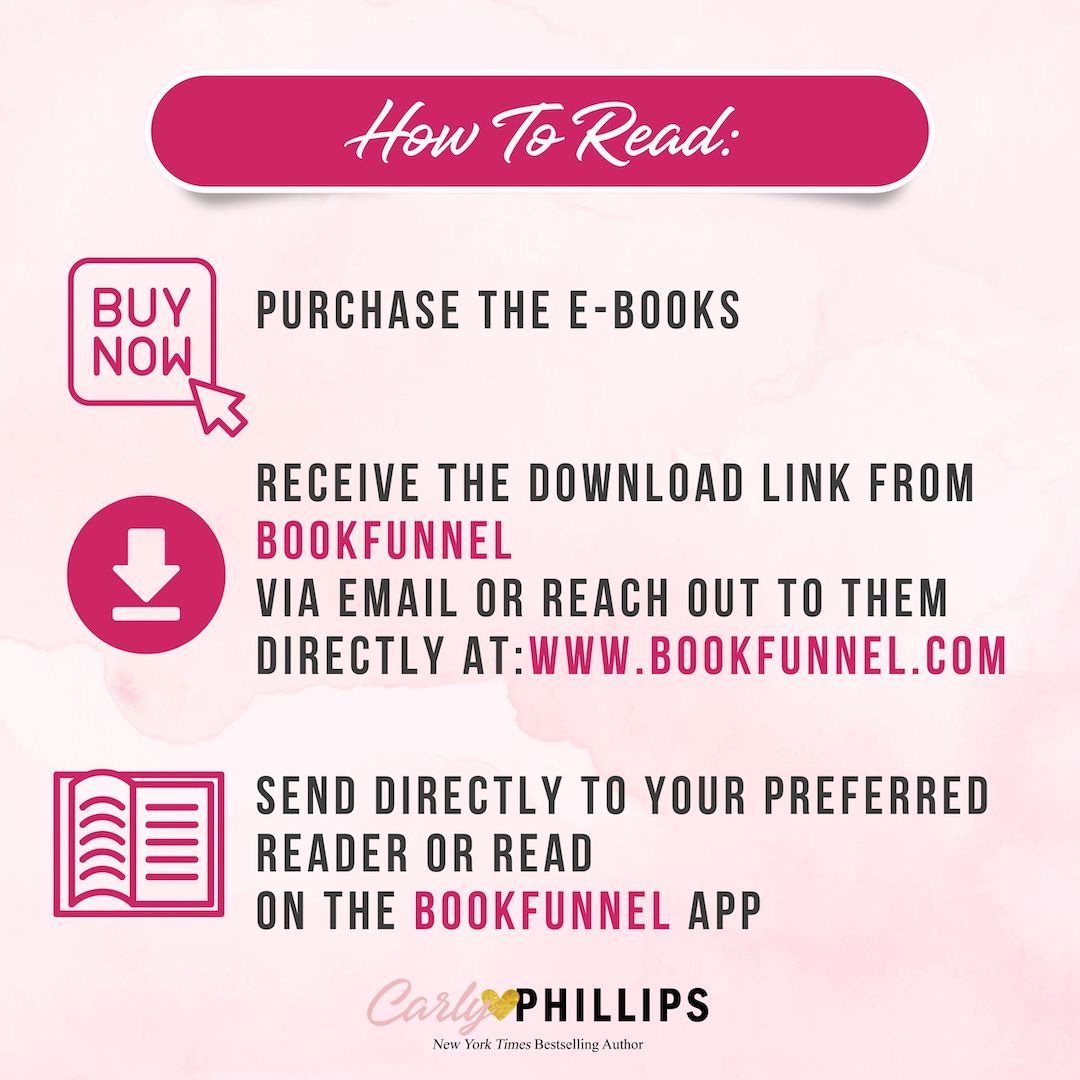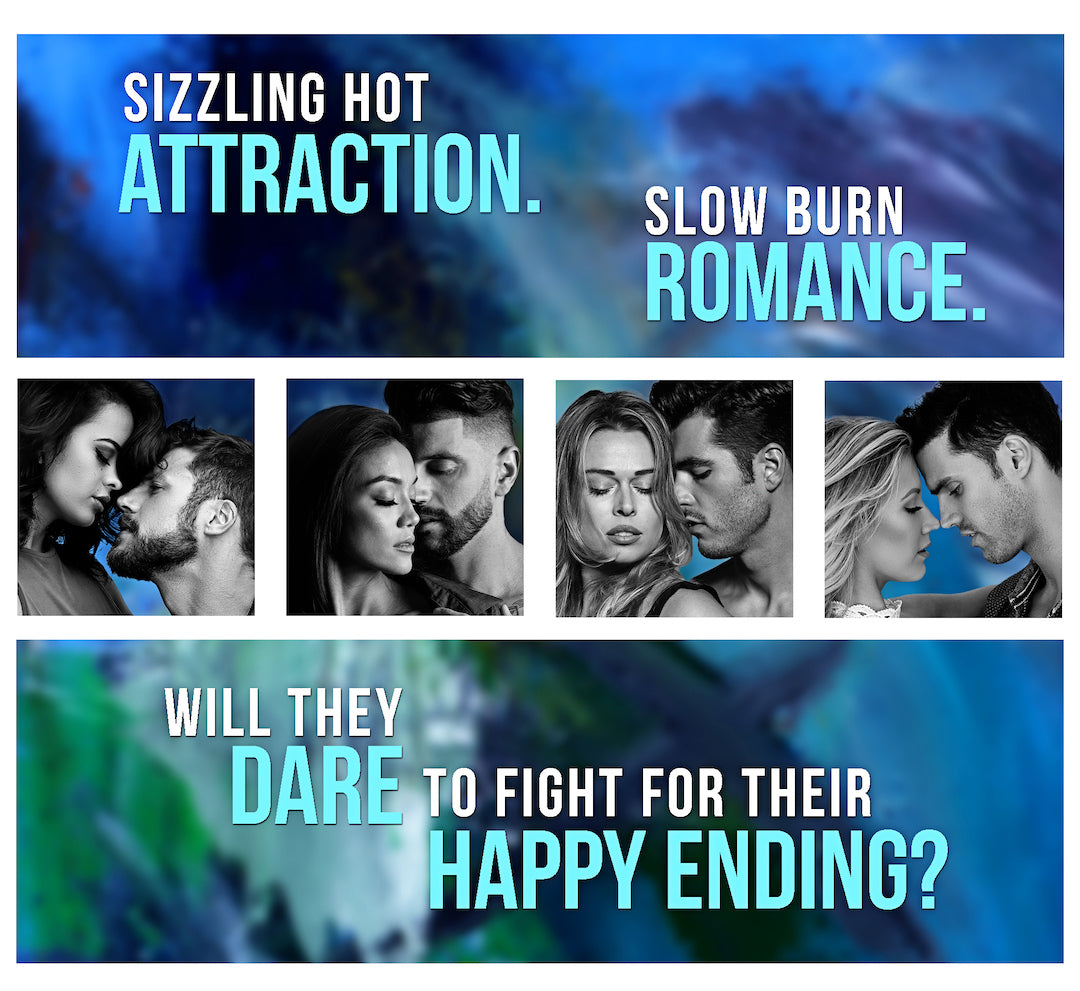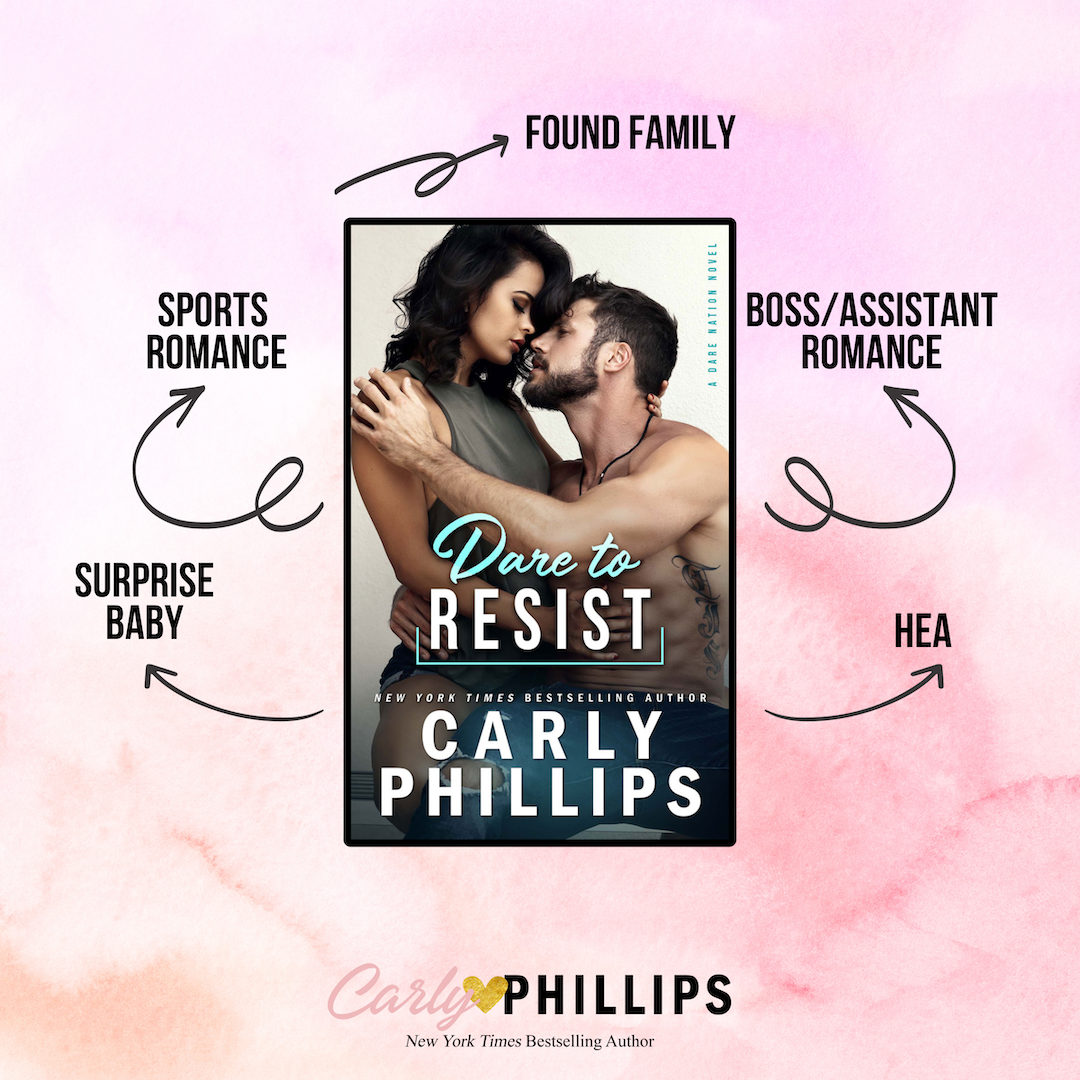 Dare Nation Bundle (Ebook)
⭐️⭐️⭐️⭐️⭐️ 4,515+ 5-Star Reviews
Regular price
$31.96
Sale price
$20.79
Save $11.17
/
---
Looking for a Different Format?
Receive Download Link via Email from BookFunnel (www.bookfunnel.com/help)
Send to Preferred E-Reader and Enjoy!
Dare to Resist
He's about to find a baby on his doorstep… and his assistant in his bed.
Austin Prescott is a lot of things. Ex-football player. Sports agent. And as of this morning? Father. Finding a baby on his doorstep should have been a joke, but the pink sticky note and baby carrier she came in is deadly serious.
What's an out-of-his-depth bachelor to do? Call his tempting and beyond gorgeous executive assistant and beg her to move in.
Quinnlyn Stone agrees to help Austin until he can straighten out his messy life. It's just another item on her very long To-Do list. It's absolutely not because she's attracted to her very single and extremely handsome boss.
Close quarters. A baby. Undeniable chemistry. What could possibly go wrong?
Dare to Tempt
He's a smooth-talking jock in trouble. She's the solution to his problems. Love is the last thing they expected to find.
Damon Prescott had it all. Star quarterback. Money. Fame. Now? He's being accused of taking performance-enhancing drugs and banned from the sport and team he loves. Determined to prove he's innocent, he hires tough-as-nails private investigator Evie Wolfe.
Evie's used to men dismissing her, especially playboys like Damon Prescott, so she's not buying the sexual lines he's trying to sell. She's with him to do a job, nothing more. But you know what they say about the best-laid plans? Sometimes you end up between the sheets with an arrogant football player anyway.
Dare to Play
He's the bad boy of baseball who's about to lose everything. She needs a husband to get custody of her teenage sister. Suddenly a marriage of convenience doesn't look so bad.
Pitcher Jaxon Prescott has a lot on his plate. Major League Baseball. Reputation as a player. And now? He's on the verge of losing it all. What's a bad boy to do? Marry his sister's best friend to save his career, even if it's the opposite of everything he wants and believes in.
Macy Walker needs to provide stability, and marrying someone would do the trick. Luckily for her, her best friend's brother needs a wife. They're this close to getting exactly what they want—as long as they don't fall in love.
Dare to Stay
He's the one who left. She's the one he left behind.
Willow James, athletic trainer for the Miami Thunder football team, knows abandonment and hurt. A child of foster care, she's been moved around and left behind more times than she cares to count. Just when she was starting to let her guard down with Braden Prescott, he left for a two-year stint with Doctors Without Borders. Now he's back.
He knows leaving her once was the biggest mistake of his life. Can Willow learn to trust him not to leave, especially when adventure comes calling again?
Austin Prescott sat in the offices of Dare Nation, the newly minted sports agency he'd opened with Paul Dare, a man he'd grown up considering like a father to him. Instead he and his siblings had recently discovered that Uncle Paul was their biological dad courtesy of sperm donation. Life was crazy. But then in the Dare world, it probably fell under the definition of normal. Family came in all shapes and sizes.
And in Austin's family, he was to be the kidney donor for Paul in two weeks, which meant his need to find an assistant was urgent. He tapped his foot impatiently, in no mood to deal with yet another interview. He'd spoken to enough women in the last week to make his head spin, and he still hadn't found the right fit.
He needed someone who could keep up with negotiations and someone who could sit at the fanciest restaurants with players and their wives who thought their shit didn't stink, all while being smarter than anyone else in the room. Except for him, of course. And someone who could handle the office while he was out on medical leave.
So far he'd interviewed Ivy League graduates with attitude and average students with MBAs who just wanted an in to meet and fuck a sports star. And Austin had plenty of experience with the latter. Hell, since his Division One NCAA days followed by his NFL career, he could bed any female he wanted, but he had to admit, easy lays were getting old. He wasn't ready to settle down, but his days of picking up women every weekend were becoming fewer and farther between. Not that he was a monk, far from it. A man had needs.
He lifted his phone to let Bri, his publicist sister who'd been helping him out until he could find an assistant, know that he wanted to cancel whoever was left for the day and start over tomorrow when a knock sounded on his office door.
"Come in!" he called out, wondering why his sibling felt the need to knock.
"Mr. Prescott?" an unfamiliar feminine voice that went straight to his cock asked as she stepped inside and blew his mind. "The woman at the desk outside said I should just knock."
A gorgeous vision in a slim black skirt and a white blouse that should have looked like a uniform but instead had him wanting to bend her over his desk stepped into the room.
His gaze slid down to black pumps with enough of a heel to elongate those sexy tanned legs. Legs he wouldn't mind having wrapped around his waist as he fucked her senseless. Because from the tips of her toes to the top of her shoulder-length raven-colored hair, she epitomized class and perfection personified. The red lipstick merely added to her appeal.
"Mr. Prescott?" she asked, causing him to realize he'd been staring.
"Yes. I'm sorry. I wasn't expecting another applicant this afternoon. Ms.…"
"Quinnlyn Stone but everyone calls me Quinn."
He rose to his feet, hoping she didn't notice the tent in his pants. "Nice to meet you, Quinn." He extended his hand as she stepped forward. No sooner had she slid her cool palm against his than a jolt of unexpected electricity sparked between them.
Shit. This was bad. Very, very bad. He could not desire a woman who might work for him.
"Have a seat," he said in a gruff voice, gesturing to the dual chairs across from his desk.
"Thank you." She walked over and lowered herself into one, sliding her legs to one side.
Like he thought, classy, unlike the many women who'd deliberately crossed and uncrossed their legs in an effort to draw his attention to their … assets.
She reached into her bag and pulled out a sheet of paper. "My resume, in case you didn't have a copy in front of you," she said.
"I appreciate you being prepared." And since he hadn't been paying attention to who his next candidate was and had hoped to cancel, he really did need the information. He accepted the resume and read through the page. "University of Miami undergrad and business school," he said, impressed with her education. "So where are you from?" He met her emerald gaze, held captive by the depths of those green eyes.
"Florida born and raised. I couldn't go far from home. My family needed me," she said somewhat cryptically.
"I see." It wasn't his business to ask why, though he was intrigued.
"I went on partial scholarship. As you can see, I graduated cum laude."
He'd noticed her honors degree. "And before this, you had a position with the Panthers," he said of the minor league team where she'd been an assistant to an assistant.
She rolled her shoulders. "It's called the ladder to success for a reason. I had to start somewhere. I have my letters of recommendation here, too." She leaned down to reach inside her purse again.
"No need. I'll look them over eventually. So you like sports?"
She nodded. "I come from a big family on both sides. A lot of siblings, cousins, uncles, everyone's a sports fan. I learned early."
He rolled a pen between his palms. "I hear you. My family was and is big on sports as well."
"You think? Two NFL players, an MLB star, a sports publicist sister … it's impressive."
The first candidate who'd truly done her research. He was impressed right back. "So why do you want this job, Quinn? Better yet, what qualifies you over the other equally competent applicants I've seen today?" He hoped she'd stutter over her words or in some way give him a reason not to hire her so he could ask her out instead.
A wry smile pulled at those sexy lips. "Well, let's see. I'm organized, efficient, and I can corral a band of preschoolers, which means I'm certain I can handle arrogant athletes."
He raised an eyebrow. "Stereotype much?"
A pretty flush rose to her cheeks, but she didn't duck her head or look away. "If the shoe fits…"
He liked this sassy woman. "So you're saying because I played football…"
"And were a Heisman Trophy winner, Rookie of the Year, and three-time Super Bowl winner that you're arrogant? Yes. Or else you wouldn't be the man sitting behind that desk today." She folded her hands in her lap and waited for his reply.
Not only had she done her homework, she looked him in the eye and was unafraid to stand up to him. "You're hired."
She blinked in surprise. "I'm sorry, what did you just say?"
He rose to his full height. "I said, you're hired. When can you start? Because I'm having major surgery in two weeks and I need someone to hold down the fort while I'm gone. Keep the clients calm and all that."
Those red lips he had plenty of uses for, in his imagination anyway, opened and closed twice before she composed herself and stood. "I can start whenever you need me. And thank you, Mr. Prescott."
"We're going to be working closely together, so call me Austin."
"Thank you, Austin."
He inclined his head. "We'll see if you're still thanking me once you've dealt with many of the juveniles I call clients. Your assessment of arrogant wasn't far off the mark."
She laughed, the sound one that would be a bright light in this office. Jesus, he was in trouble.
He strode around the desk and came up beside her. "You can talk to Bri outside. She'll take you down to our office manager, who will have you fill out paperwork and get you settled. Can you start the day after tomorrow? That'll give us time to get you up to speed before I'm out for at least five weeks. Maybe six." It sucked but his body needed to adapt to having one kidney. The doctors had warned him about exhaustion most of all.
He glanced at her and she was still in shock. Since the salary and benefits had been laid out in the job description, he didn't need to go over those details.
Finally she nodded, her eyes wide, her expression brimming with excitement. "I'm looking forward to it. Thanks again." She spun and headed out the door, leaving him behind in a floral haze of lust and need for a woman he wouldn't be able to touch. As long as she worked for him, his motto would be hands off.
I stepped inside and froze.
My boss stood over a baby in a car seat carrier, literally wringing his hands.
"What's going on?" I asked.
"Someone left her on my doorstep!"
I immediately bent down and shifted the handle so I could lift the crying infant out of the seat and cuddle her against my chest. "Shh. Shh."
I rocked from side to side, rubbing my hand over the little back in a soothing motion. "What's in that bag? See if there's formula or diapers." Something that would soothe the baby.
But as he knelt, the infant responded to being comforted to me holding her. The baby calmed down and pulled in quick breaths, then released them.
"Oh, thank God. She stopped crying. How did you do that?" Austin asked, glancing up from his crouched position.
"You were a tense mess and transmitting that to her. Plus you didn't pick her up or even try and comfort her," I chided him.
"She scares me." He dug through the bag on the floor. "What's this?" He held up a burp rag.
I rolled my eyes before I could stop myself. "Give it to me." I took the soft cotton and dabbed at the little one's wet face and eyes and wiped her tiny nose. "There you go. All better?" I asked.
Two big blue eyes stared up at me. My God, this baby was beautiful. "You said she?"
He rose. "The note said she's a girl." He picked up the pink sticky note that had fallen to the floor. "Here."
I glanced at the paper and my eyes opened wide. "And you didn't know about her?" I asked, voice rising in disbelief.
"No," he replied a bit sheepishly.
With a frown for him, I looked back to the baby and smiled. "Hey, Jenny. You're so pretty. Are you sure she's yours?"
"I don't know," he admitted.
"Why did you call me?"
His warm gaze settled on me. "Because you're you. You handle things. You keep me organized and settled."
"In business," I said through gritted teeth. As cute as Jenny was, there was no way this infant was becoming my problem. "Why don't you hold her and I'll check for necessities for tonight. A bottle, formula, and diapers."
A look of horror crossed his face. "I can't hold her."
"You can and you will." I handed the baby to him, giving him no choice.
He took her awkwardly into his arms and the screaming started again immediately. "See?"
I adjusted the way he held Jenny so the baby felt more secure in his arms, but the cries didn't abate.
Ignoring them the best I could, I lifted the bag to the kitchen table and went through it, doing a mental inventory as I laid out each item. "Okay, you're good for the night. I can make a bottle before I go so you can feed her before bed."
"Wait, what? Where are you going? You can't leave me!" he practically yelled.
Predictably, between his loud voice and tense body, Jenny started to wail once more.
I narrowed my gaze at him.
"You can't leave me," he said, begging me with his handsome face and gorgeous eyes.
I stared at him in disbelief. "You don't expect me to move in and play nanny for you, do you?"
He played me with his most endearing grin.
Find out what happens next in Dare to Resist!
A new set of Dare siblings to love.
Born with the surname Prescott only to learn they are Dares through sperm donation, these four Dare brothers are all-star athletes, sports PR agency owners and—like all the Dare brotherhood, hot alpha men. Perfect heroes for a sports romance bundle!
Read the full series if you love:
Billionaires

Sports/Athletes

Surprise Baby

Workplace Romance

Opposites Attract

Marriage of Convenience

Single Dad / Single Mom
Get all four books and strap in for heroes who raise your pulse, heroines who make you cheer, and romance that will fog up your windows. This bundle includes separate ebook editions of the four Dare Nation novels.
*After you purchase the bundle, you will receive an email with a link to download your ebooks. Then you can simply send the ebooks to any Kindle, tablet, or phone. Enjoy.
E-BOOKS INCLUDED IN BUNDLE
Dare to Resist — Austin & Quinnlyn
Dare to Tempt — Damon & Evie
Dare to Play — Jaxon & Macy
Dare to Stay — Braden & Willow
Upon purchase, you will immediately receive an email providing access to your Ebook(s) from BookFunnel. Click that link and follow the instructions to read online or download the Ebook to your Kindle, iPhone, Android, Nook or Kobo device.
If you have any issues accessing your purchased Ebook, there is a Need Help? link at the top right corner of the book download page. If you do not receive a download email, visit https://bookfunnel.com/help/.