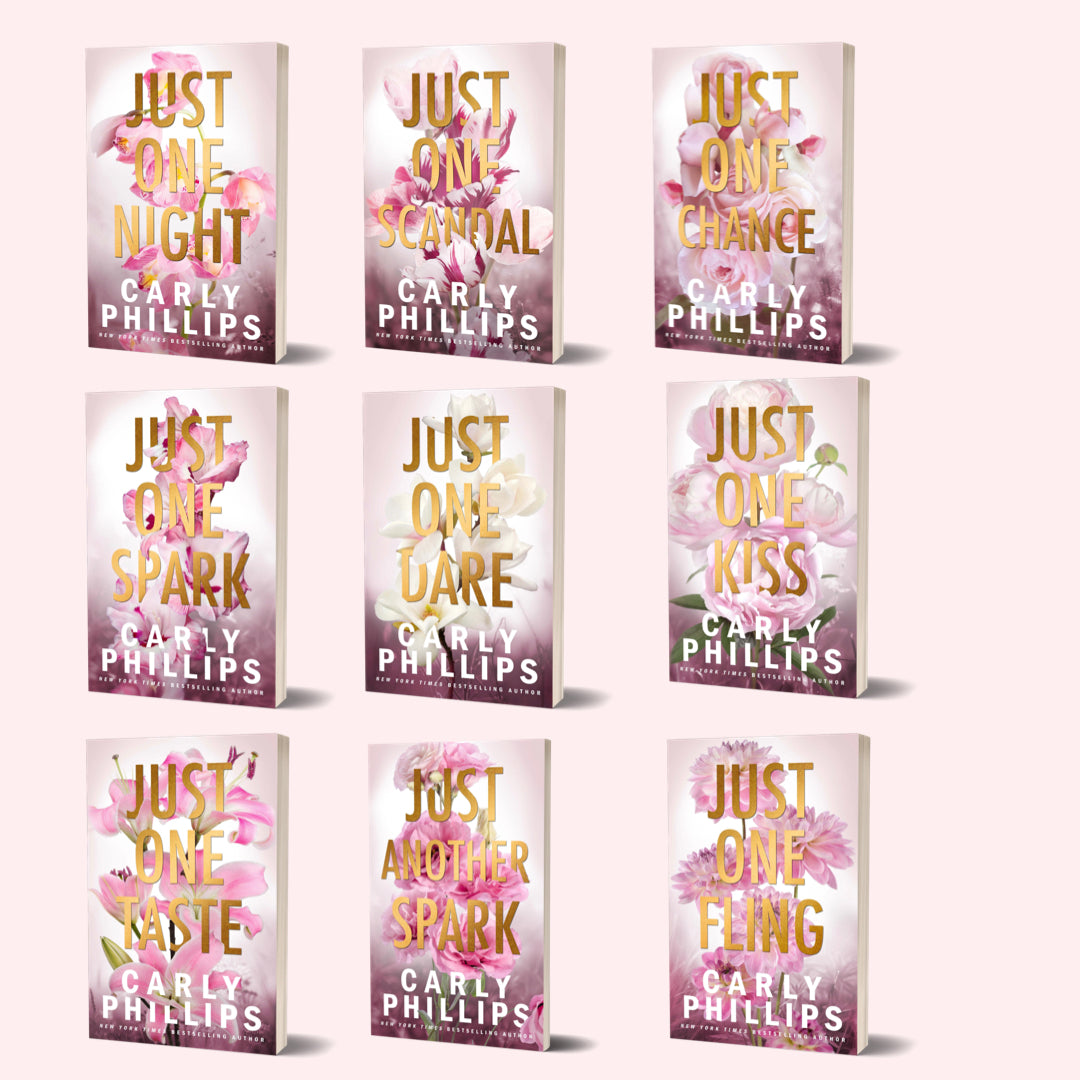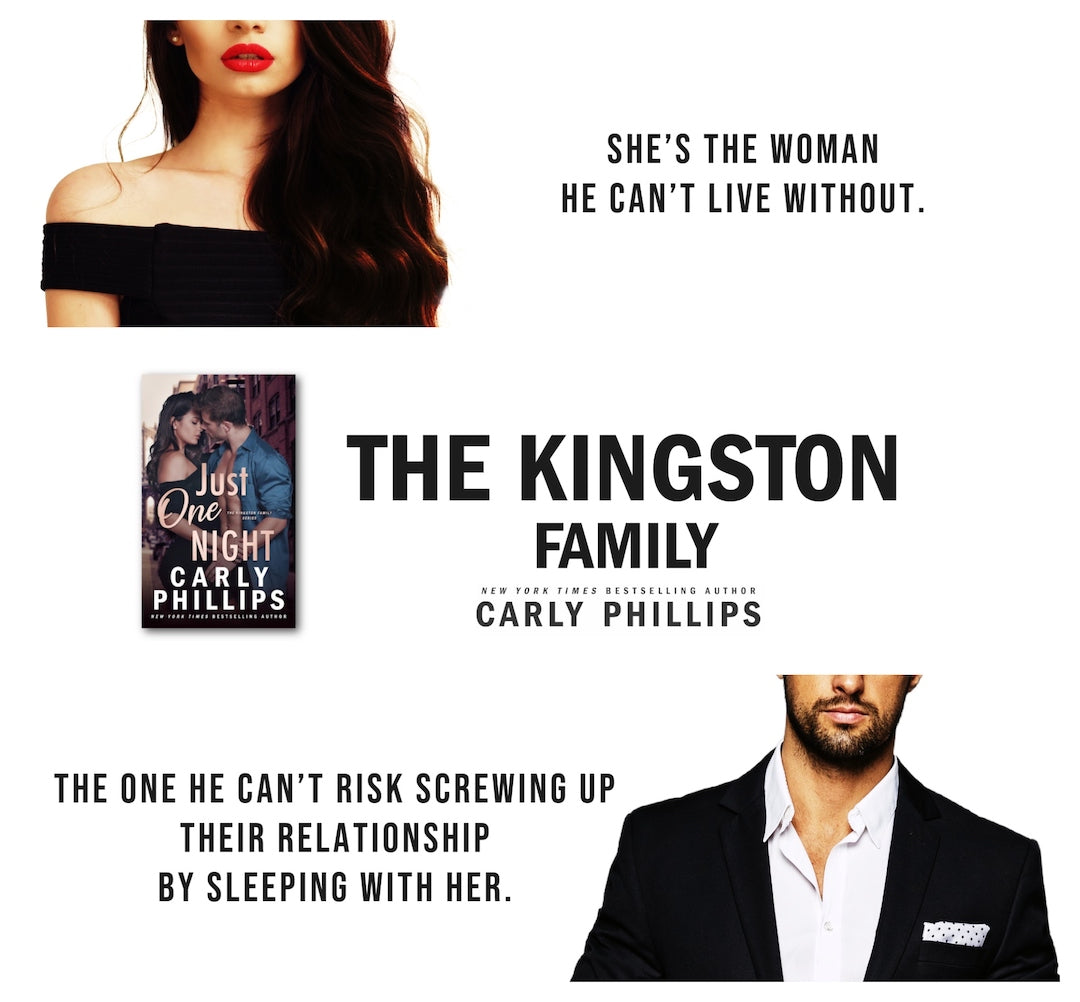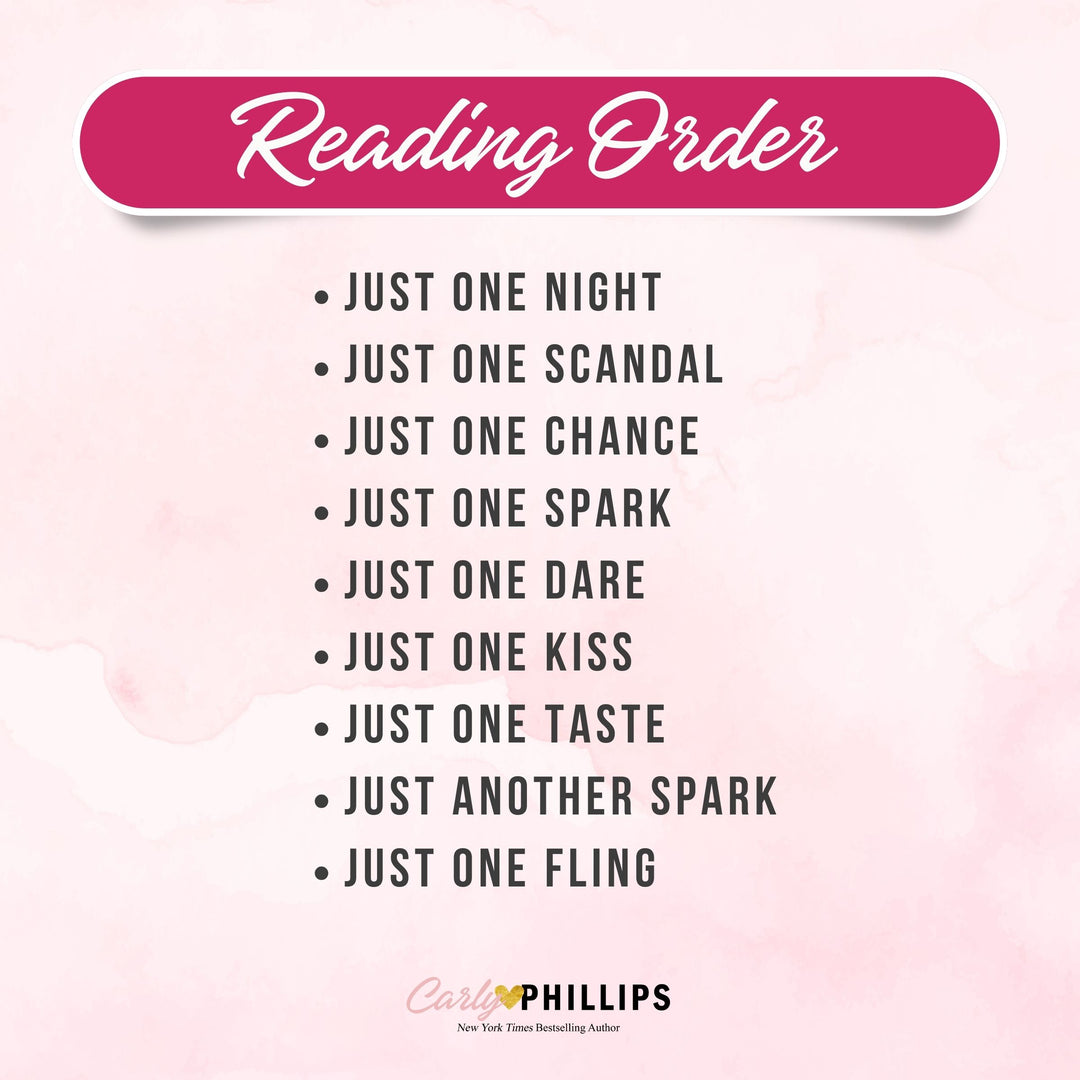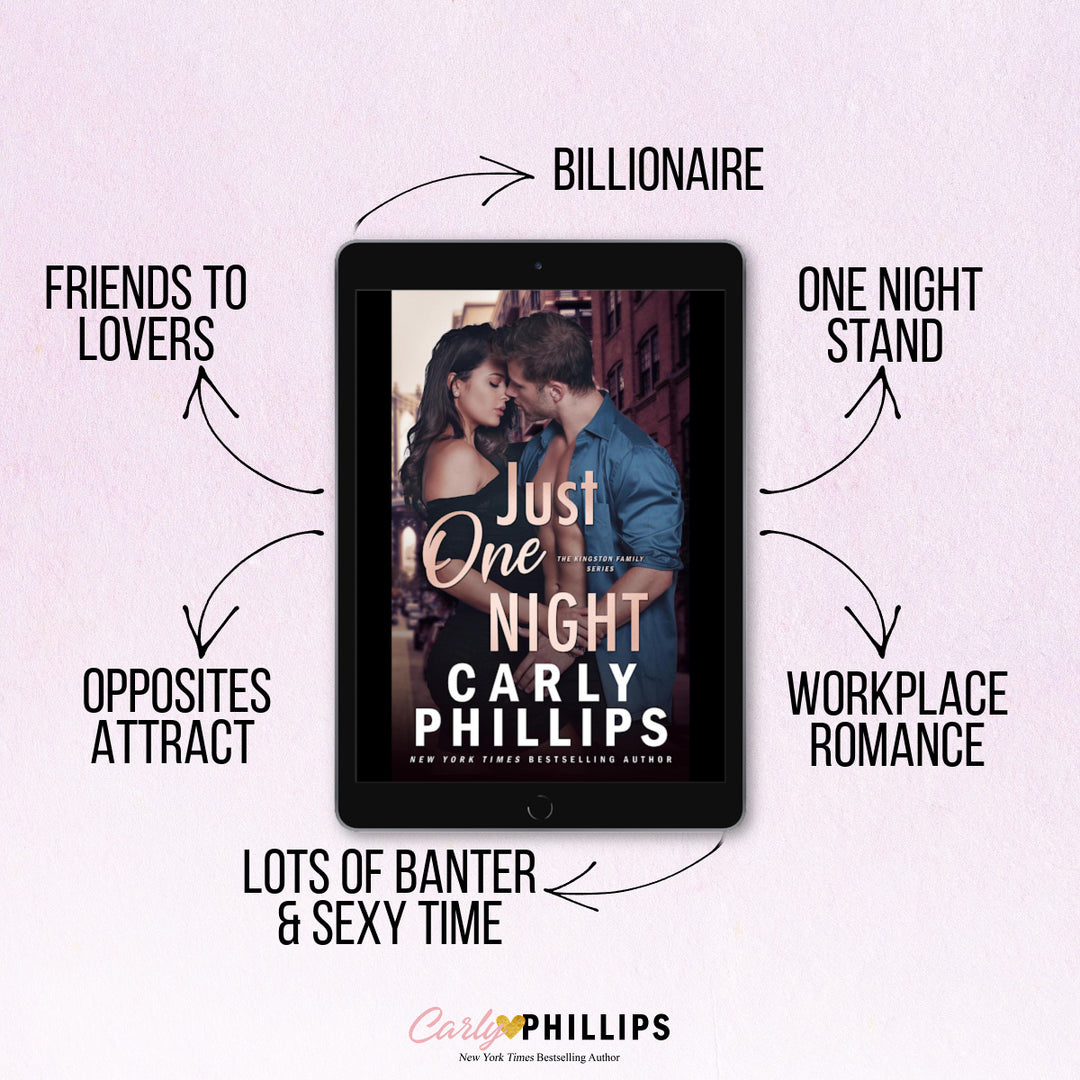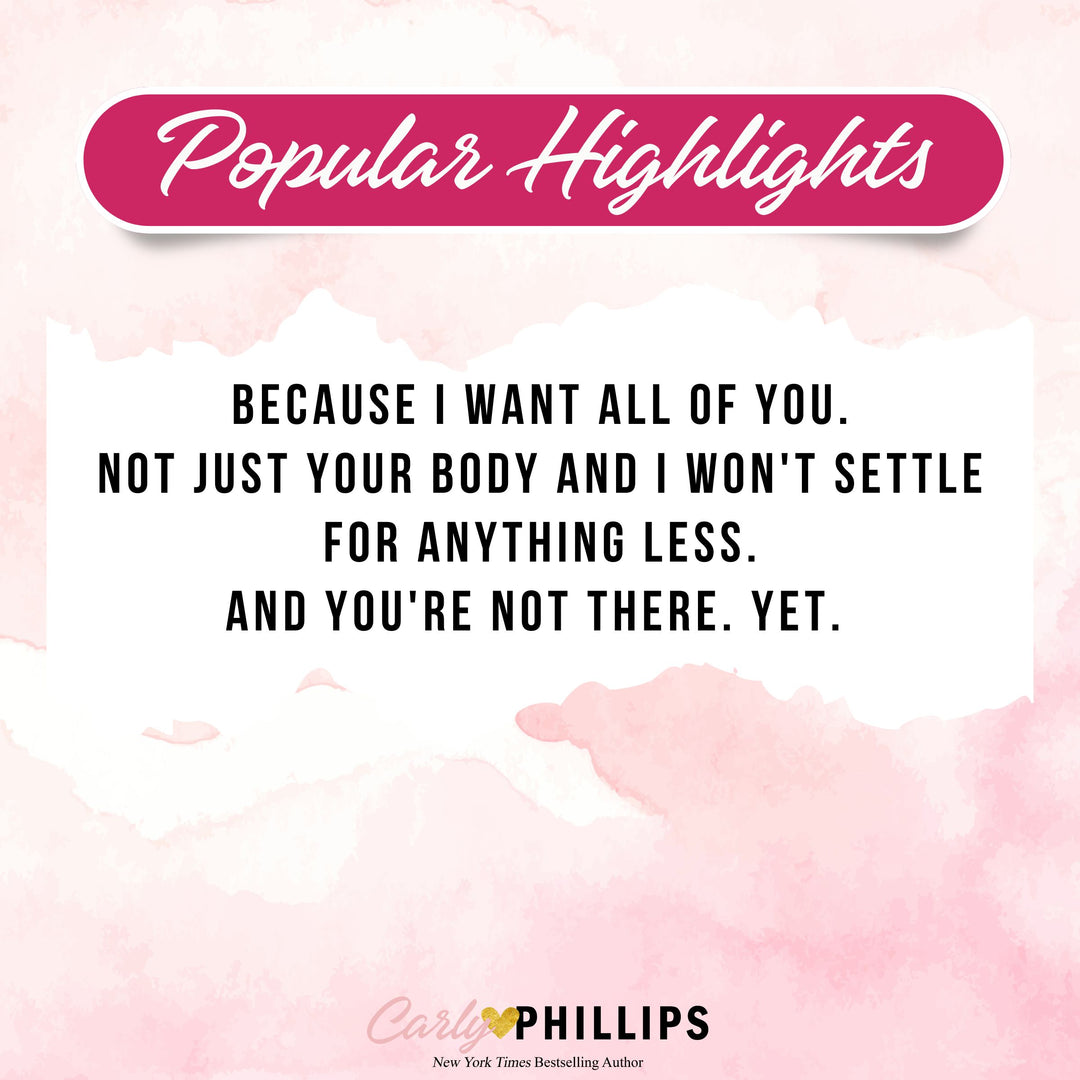 Kingston Family Floral Collection Bundle (Paperback)
⭐️⭐️⭐️⭐️⭐️ 9,728+ 5-Star Reviews
Regular price
$152.91
Sale price
$121.99
Save $30.92
/
---
Looking for a Different Format?
Choose Your Shipping Method
Books Are Printed to Order and Shipped Direct to You
Gather up nine sexy romances intertwining the Kingston and Dare families.
JUST ONE NIGHT 
She's the woman he can't live without. The one he can't risk screwing up their relationship with sex.
Linc Kingston doesn't accept anything less than perfection. Not in his billion-dollar business or in his personal life. He has it all. Except one thing. His personal assistant and best friend in his bed, moaning his name. No matter how much Linc wants her, she's completely off-limits.
Jordan Greene grew up the daughter of the housekeeper at the Kingston estate, where she met and bonded with Linc at a young age, despite their economic differences. But no matter how close they are now or how much their attraction simmers beneath the surface, they're still from two different worlds. Besides, Jordan isn't about to risk losing her best friend for one sensual night.
Jordan might be the only woman who can handle Linc and his domineering, bossy attitude, but beneath that gruff exterior is a vulnerable man who, despite his wealth, has had a less-than-charmed life
And when Linc's father dies, she's there for him—unwavering in her friendship.
Until one night of passion and a positive pregnancy test changes everything.
JUST ONE SCANDAL
A jilted bride. Her brother's ex-buddy. An affair would be crazy…right?
Chloe Kingston's life is exactly how she needs it: safe and stable. Right up until her reliable, low-risk fiancé jilts her on their fairy-tale wedding day. As she works her way through the reception champagne—and wonders where she's going to live—she stumbles into her brother Linc's ex-best friend.
If only Beckett Daniels were hideous. But he's not. He's everything her erstwhile groom was not. Hot. Sexy. Dangerous. And she's just buzzed enough to want all that Greek-god gorgeousness to show her the kind of fun she's been missing.
Beck thrives on calculated risks, but taking advantage of Linc's little sister isn't one of them. What he can do is haul her tipsy, tulle-clad, tempting little butt to the bridal suite to sleep it off. Then move her into his spare room—which has the satisfying side effect of driving her brother crazy.
They can't remain platonic roommates for long. Not when the sexual attraction sizzles out of control. But when tragedy threatens Beck, pain from his past reminds them both that life doesn't come without risks…and this time, they're gambling with their hearts.
JUST ONE CHANCE
He thought she was the one…until she walked away. Now she's back and he wants her more than ever.
As a former Marine, Xander Kingston's writing keeps him sane. Bonus? His thrillers made him one of Hollywood's most desired screenwriters—and also introduced him to a fledgling starlet who broke his heart. With his close-knit family in New York, Xander returned home and found peace. Until Sasha Keaton shows up at his Hamptons retreat. Now an A-Lister, she's as beautiful as he remembers. And just as dangerous to his heart.
Sasha learned from watching her mother to never sacrifice her dreams for anyone—only to discover how empty life could be without the man she loved. Now cast in Xander's latest movie, she needs his insight to play the part, but secretly hopes for a second chance.
Xander has built emotional walls to keep Sasha at a distance, but their physical attraction can't be denied. When a stalker's threats intensify, Xander moves Sasha into his house to keep her safe. Before long she's back in his bed and making inroads in his life.
But when the danger passes and the movie wraps, Sasha and Xander face a familiar choice—put career first or give love a fighting chance.
JUST ONE SPARK
He's a playboy rock star living the rock and roll dream… Until a very real baby scare threatens to bring it all crashing down.
Dash Kingston has learned his lesson and knows his hard-partying lifestyle needs to change. To clean up his playboy image, he needs a fake girlfriend.
There's just one problem: the perfect woman for the job is a gorgeous blonde who once aroused not just his body but his emotions, sending him running. And leaving her to wake up alone.
For the band's sake, Cassidy Forrester agrees to play the girlfriend role, but she's not going to fall for Dash's charm or sex appeal ever again.
Except this Dash Kingston swears he's a changed man, and he's out to win Cassidy over – for good. But only a fool would make the same mistake twice, and Cassidy refuses to let their spark burn her a second time.
JUST ONE DARE
A one night stand with no names exchanged. Six years later, she comes face to face with her baby's father again.
Aurora Michaels isn't the same girl she was that spring night. No longer homeless and living in the back room of a diner where she worked, she's now a member of the wealthy Kingston family. She has her daughter, a career and has adjusted to her new normal.
Billionaire Nick Dare is a man who takes charge. He runs the hotel arm of the family empire and his life revolves around business and travel. A quick stop at his brother's movie premier has him doing a double take.
The woman who haunts his dreams is there. He's been given a second chance and is determined to make the most of it.
When he learns about their daughter, Nick becomes a man on a mission. Aurora and their child are his. Even if he has to knock down Aurora's emotional walls to prove it.
JUST ONE KISS
It was supposed to be one fun night of hot sex. It turned into a second. Then a third.
Now Mother Nature is having the last word—with a secret baby surprise!

Jade Dare has done everything in her power to overcome her mother's unstable influence. Changed her name. Became a success. Vowed never to risk passing on the potential for inherited pain. What has it gotten her? One fiancé who wanted her for money. A second who cheated on her with his brother's wife.

Now she's sworn off men. Or at least off serious relationships. But when the chance to indulge in a one night stand with a man she's secretly fantasized about arrives, she jumps in. Only to land heart-first into a case of the feels she can't bring herself to trust.

Knox Sinclair always suspected he liked his brother's fiancé a little too much, that's why he kept his hands to himself. But with ties broken and Jade all too willing, a no-strings-attached night sounds like a damned good idea.

Except one night isn't nearly enough. But while Knox is busy convincing Jade they have a chance at forever, the past is planning one last parting shot.
JUST ONE TASTE
One grumpy billionaire. One sassy-sweet​​​​​​​ supermodel. Add in a tropical private island paradise. What could go wrong?
As owner and CEO of Dirty Dare Spirits, thirty-three year old, Asher Dare has it all. Money. Power. Women whenever he wants. A private island retreat when he doesn't. People he trusts? He can count those on one hand. When one of his best friends asks a favor—hide his twenty-one year old, supermodel sister, on the island until a scandal blows over—Asher can't say no. But he doesn't have to like it.
Model, Nicolette Bettencourt always acts with decorum. Yet through no fault of her own, scandal seems to follow her every move. When damaging photos surface, the uproar puts her family business at risk. And forces her into hiding with Asher, the hottest—and grumpiest—billionaire she's ever met.
Under soothing tropical breezes, Asher discovers that Nicolette is nothing like the spoiled brat portrayed in the tabloids. She's warm, sexy, and a temptation Asher must resist at all costs—or he risks betraying his closest friend, bringing a powerful political dynasty to its knees… and losing the woman he loves.
JUST ANOTHER SPARK
He's a rock star wanted by millions. She's a wife willing to fight for their love. Revisit Dash and Cass from Just One Spark in this sequel novella.

Rock star Dash Kingston is finishing the last leg of his band's U.S. tour. Exhausted and ready to be home, he can't wait to see his girl. Time zones, show times, and the demands of his career have made married life harder than expected. Even knowing the rock star life wouldn't make their relationship easy.

Cassidy Kingston thought she was ready to handle being married to a man idolized by women everywhere. She believes in their love even though the separations when the band is on tour can be torture. But the paparazzi and media don't make their time apart easier and the gossip headlines hit her harder than they should. She trusts her husband even if she misses him like crazy.

When rumors surface that Dash is seeing someone, what's a girl to do? Surprise her husband and remind him of what he's been missing. Except you know what they say about the best laid plans.
JUST ONE FLING
It was just supposed to be a fling. Now she's having his baby.

Winter Capwell knows all about billionaire Harrison Dare's bad-boy reputation. His all-pleasure, no-commitment rule worked well for her, too. Until fate changed everything.

Harrison never wanted a wife or kids. His incredibly large family provides all the siblings and children he needs. Besides, no woman has ever tempted him to give up his bachelor lifestyle. Until the mysterious and sexy Winter entered his life.

But when someone comes after the woman he loves, he will stop at nothing to protect her and make her his. For good.
Linc Kingston's father was a pompous jerk, a philandering womanizer, an asshole of the first order, and he was dead, leaving behind four legitimate children and one illegitimate daughter. That they knew of.
Linc spread the canceled checks he'd found weeks ago across his desk. As he'd discovered yesterday from the private investigator he'd hired, the trail had led to a sister he knew nothing about, and the information had sent him reeling. Who knew what other surprises awaited in the wake of Kenneth Kingston's death of a heart attack a month earlier?
Picking up a glass of Macallan 18, not his first or even his second, he finished the contents. Without hesitation, he poured himself another with the bottle he'd taken from the bar in the corner of the office that had once been his father's.
"Slow down or you'll end up sleeping here tonight," his brother Xander said. Feet kicked out in front of him, he leaned back in his chair.
"I have a car waiting to take me home. I can get as drunk as I want." Linc lifted the tumbler to his lips.
Xander groaned. "Look, I get it. I'm not happy about the news either, but it's not like we thought Dad was a stellar human being. Are you really shocked he knocked up his secretary nineteen years ago and left a daughter to show for it?"
"No." Linc took another sip. "But I am horrified by the fact that at some point he looked up the kid's mother, found out the child was in foster care, and left her there." Linc's private investigator had tracked down Tiffany Michaels and gotten the story. Linc's stomach churned at how his sister had been treated by both of her parents.
Xander glanced up at the ceiling, adjusting his black-framed eyeglasses he wore after a long day staring at a computer screen. "I changed my mind. I could use a drink myself."
With a shake of his head, Xander rose, walked to the bar, grabbed a tumbler, and brought it back to the desk. He picked up the bottle, poured himself a drink, and settled into his chair before indulging in a hefty gulp.
"What do Dash and Chloe say?" Xander asked of their siblings.
Of course Xander wouldn't know how they'd taken the news. While Linc was dealing with their late father's estate, the business he'd been helping to run for years, and the paperwork after their father's death, Xander had been closed up in his home office writing. He was a marine turned thriller writer after his return stateside whose books had been made into blockbuster movies, and he often got lost in his own world. Linc had called him here tonight to fill him in about their sister.
He glanced at the surprise checks he'd found. Everything relating to the family real estate business banking was online. That Kenneth had obviously opened an account to hide these payments spoke volumes about what their father was capable of when it came to his penchant for deception.
"I dragged his ass out of the studio to talk to him. Did it on the phone because, as you know, he's holed up and working with the band. He listened, said it figured Dad would leave us with this kind of surprise, and went back to work."
Dash was the lead singer of The Original Kings, a rock band he'd been a part of since he was in high school. After years of playing bars and smaller gigs, they'd been discovered, and their success was massive and worldwide. When home in New York, Dash had a house near Xander's in the Hamptons fully equipped with a studio and enough room for his bandmates to crash.
Linc rubbed the back of his stiff neck with his fingers.
Xander nodded. "Dash is focused when he's working."
"Sound familiar?" Linc asked wryly. "Anyway, he texted me later and said he wanted to meet her, so he's fine. Mellow and typical Dash."
"And Chloe?" Xander drummed his fingers on the arm of his chair.
"She's upset. Devastated she had a sister she never knew about and one who obviously grew up in way different circumstances than us." It turned Linc's stomach. He didn't have details of this sibling's upbringing, but he knew it wouldn't be pretty. "Aurora," he said.
"What?" Xander asked.
"Our sister's name is Aurora. I think we should start getting used to it."
A knock sounded on his door, and his personal assistant and best friend, Jordan Greene, walked inside, her dark hair pulled back in a sleek ponytail, her black slacks and silk blouse as immaculate as they'd been this morning. After her upbringing, Jordan prided herself on being able to afford quality clothing and looking her best. No more hand-me-downs from her sister.
"I'm leaving for the night. Anything I can get you before I go?" she asked, as she did every night he stayed later than her. They both worked long hours.
Xander turned to face her. "Hey, Jordan. You weren't at your desk when I came in. I almost thought you gave up on dealing with my brother." He jerked a finger back at Linc and laughed.
"Shut up, asshole." Linc scowled at his sibling.
Jordan chuckled. "We all know I'm the only one who will put up with him. I can't subject my fellow females to his bossy personality at work."
"I am not that bad," Linc muttered.
"Yes, you are," they both said at the same time, and their joint laughter echoed around the room.
Linc shook his head as they made fun of him. It wasn't unusual for Jordan to gang up on him with one of his siblings, and maybe he deserved it. He wasn't always easy.
Jordan's mother, Tamara, had been the Kingston's housekeeper throughout their childhood. As a result, Jordan knew all of his siblings well but mostly Linc as they'd bonded early on. They'd become not just best friends but a united duo. Despite their different backgrounds, they'd clicked. After school she'd come to their house to do her homework while waiting for her mother to finish working, and Linc used to join her.
Getting her to become his assistant after he'd graduated business school had been the smartest thing he'd ever done. His schedule was always up-to-date, she knew what he wanted almost before he asked, and their friendship had only deepened.n below gets short 1st person snippet scene followed by marketing info for bundle, including tropes.
I'd slept with Linc. My boss. My best friend. My everything. I closed my eyes and tried to pull myself together, searching for the best way to handle things between us now.
I couldn't have the man I loved. Nothing fundamental between us had changed. He was Linc Kingston, real estate mogul and a man of wealth and privilege, and I was his assistant and best friend, and I didn't want to lose our connection. He'd never had a long-term, serious relationship before. Not one he'd mentioned, anyway.
He steered clear of entanglements, and if he ever married, I wouldn't be the woman he chose. With those thoughts circling around my brain, I was making myself dizzy with anxiety.
I couldn't look at him as he walked back to bed and sat down beside me.
I wasn't ready to face him but I turned anyway. "That was incredible," I blurted and wished I could snatch the words back.
He reached out and caressed my cheek. "It sure as hell was."
Relief washed over me, and I leaned into the comforting feel of his touch.
"But you know it can't happen again," he said, his voice gruff.
I blinked and swallowed over the lump in my throat, his unexpected words gutting me, even as I'd already told myself the same thing.
No way would I let him know he'd hurt me. I drew in a deep breath and blew it out before answering. "Don't worry. I'm not the type to confuse sex with something more."
The bed still smelled of us, and I couldn't lie by his side and stare at him any longer. Turning, I slid off the mattress, and bent to grab my robe from the floor. Moving slowly, as if I wasn't running from his words.
After wrapping the heavy material around myself, I looked at him. "We're good," I said, hoping speaking the words would make them true.
"You sure?" Concern laced both his voice and his expression but I didn't need or want either.
I nodded.
He'd stretched out on the mattress, and his gorgeous face and muscled body had arousal rising once more.
Nope. Not going to happen.
Shower time, I thought, and walked away, head held high, closing myself in the bathroom and locking the door behind me. 
Find out what happens next in Just One Night!
Oh, those Kingstons!
The Kingston Family Floral Collection — the same books you originally loved, now with a special edition floral covers. Gather this bouquet of nine sexy romances intertwining the Kingston and Dare families.

Read the full series if you love:
Billionaires

Hollywood Heartthrobs/Actors

Rock Stars

Suprise Baby Romances

Insta Love

Alpha Heroes

Get the first nine books in this newest and growing series. Start reading now so you'll be ready for the new releases coming out in November 2023 and February 2024.  
This bundle includes eight novels + one sequel novella featuring the original Kingston siblings and expanding to The Dirty Dares!
PRINT BOOKS INCLUDED IN BUNDLE
Just One Night — Linc & Jordan
Just One Scandal — Beck & Chloe
Just One Chance — Xander & Sasha
Just One Spark — Dash & Cass
Just One Dare — Nick & Aurora
Just One Kiss — Knox & Jade
Just One Taste — Asher & Nicolette
Just Another Spark — Dash & Cass reprise
Just One Fling — Harrison & Winter
Print books are printed to order and shipped by our print fulfillment partner, BookVault. Print time is usually 72 working hours. After books are printed, they are packaged and shipped directly to you by the shipping method you choose at checkout. Rates and delivery times will vary depending on your, country, delivery address and shipping method. Shipping to US addresses generally runs 10 - 14 working days.