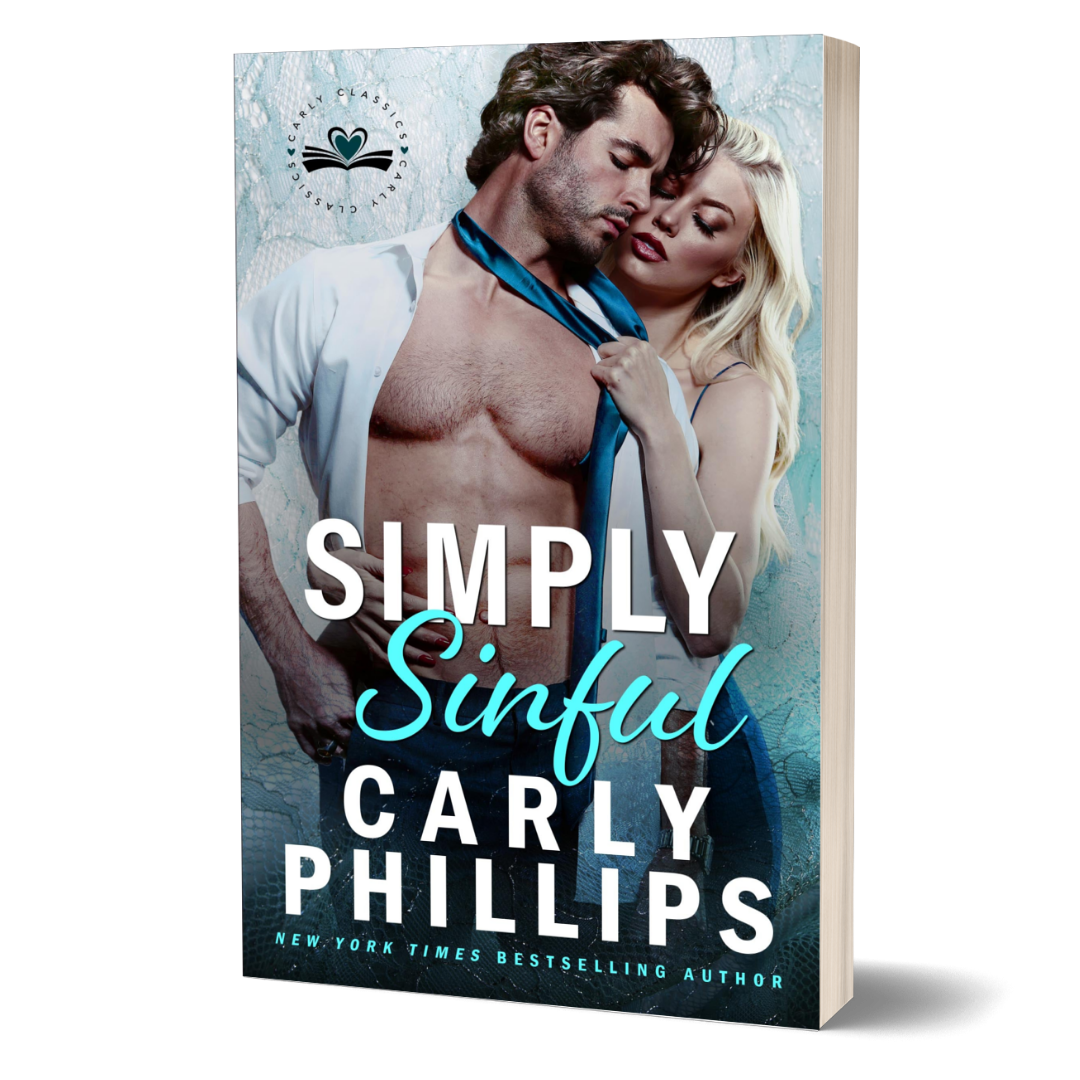 Simply Sinful (Paperback)
---
Looking for a Different Format?
Purchase your Paperback Book
Choose your delivery method
Books are printed & delivered to your door!
Series: The Simply Series #1

Tropes: Police/Cop, Romantic Suspense
⭐️⭐️⭐️⭐️⭐️ 554+ 5-Star Reviews
He's not the man she thought he was.
But when danger lurks, he's the man she needs.
Any rookie on the force could verify if Charmed! is a legit etiquette school for businessmen, or…something else. But coming off a wrenching drug bust, Detective Kane McDermott's captain gave him a choice. Take the fluff case, or take enforced time off.
The moment Kane meets Kayla Luck, he's in trouble. She's fierce, keen-eyed intelligence in a body built for sin. And when they touch, the jolt of desire reminds him it's never wise to mix police work with pleasure.
Kayla is used to handling men who are more focused on her curves than her mind. But when her newest client arrives for lessons in foreign language and business etiquette, she's the one who can't tear her eyes off all those muscles wrapped in a sexy, double-breasted suit.
Dinner out leads to a hot night in bed, and Kayla falls hard and fast. Until she learns the business suit hides a badge, and she calls it quits. But Kane's already lost his heart—and discovered she's in danger. And if he can't convince her she's safe with him, he'll lose the woman he loves.
While all of my books are stand-alone reads, here's the suggested order for reading this series:
The Simply Series
Simply Sinful
Simply Scandalous
Simply Sensual
Body Heat
Simply Sexy
Print books are printed to order and shipped by our print fulfillment partner, BookVault. Print time is usually 72 working hours. After books are printed, they are packaged and shipped directly to you by the shipping method you choose at checkout. Rates and delivery times will vary depending on your delivery address and shipping method.
Average shipping times:  To U.S. addresses, 2-3 weeks.
Holiday shipping times:  The U.S. celebrates Thanksgiving on November 23, 2023. Many physical businesses close for a 4-day holiday weekend. This also kicks off the December holiday buying and shipping period. Please bear with us as we expect printing and shipping to take longer during November, December and into early January.